Namiki Yukari Bush Clover Limited Edition 2023
Bush Clover, Hagi in Japanese, has been one of the seven favorite flowers of Autumn since antiquity. It grows naturally in the mountains and decorates the most beautiful Asian gardens of today, such as that of Mukôjima Hyakkaen in Tokyo. It is appreciated for its gentle, wild, and unpretentious beauty. More than 100 poems are dedicated to it in the oldest book of Japanese poetry, the Man'yoshu, dating from the 7th century.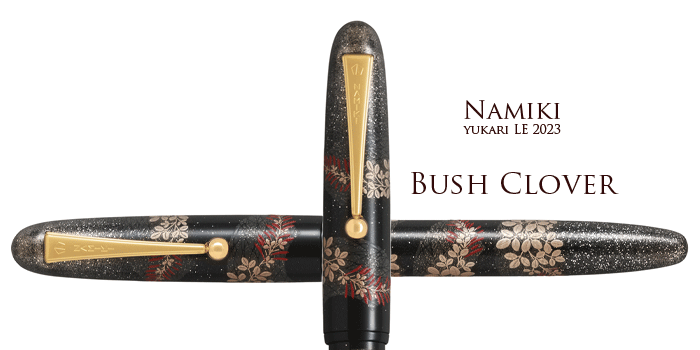 On the Namiku Yukari Bush Clover Yukari limited edition fountain pen, the shimmering Hagi is illuminated by moonlight and delicately treated in silver Maki-e and red lacquer. In the background, the undergrowth takes the form of magnificent traditional fans realized with a grey lacquer and gold powder. This fountain pen will be distributed in 300 copies worldwide but only 70 pieces are available for Europe. Expected April '23!