Seven Gods of Good Fortune Namiki 100th anniversary limited edition
Seven artisans from the present Kokkokai group contributed to the creation of seven Yukari-type fountain pens. They are all equipped with a clip and feature an 18-karat gold nib that brings out the special engraving of the PILOT centenary editions. Each model is made in Taka Maki-e and shows one of The Seven Gods of Fortune. In Japanese mythology, they are believed to grant good luck and are among the most popular mythical characters in Japan. These seven deities consist of one woman and six men, each from a different religion (Shintoism, Buddhism, Taoism and Brahmanism) and from various geographical origins (Japan, China or India). Each pen is limited to 25 pieces in Europe, available as of March 2019.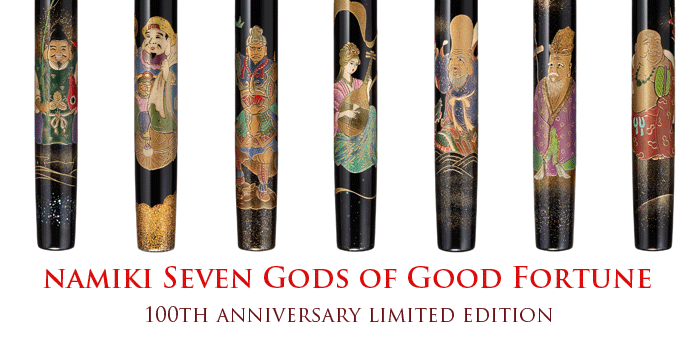 The 100th anniversary or centenary of the Namiki group is cause for a special celebration. The company mobilised its famous Kokkokai craftsmen to create exceptional limited editions inspired by themes dear to its history and Japanese culture: sea, good fortune and Mount Fuji. It also serves as an homage to its founders Ryosuke Namiki and Masao Wada, two marine engineers united by their native land and passion of navigation.
In 1918, the Namiki Manufacturing Company had a strong desire to promote the Art of Maki-e. Created around Gonroku Matsuda, the greatest master of all time in the art of Maki-e, the Kokkokai craftsmen group was formed in 1931 in Ootsuka. The group concentrated its efforts on research, development and improvement of the quality of lacquered fountain pens. Kokkokai means light of the nation, and each member of the group has specialised in different techniques, that are passed on from generation to generation. They all share a common point of view: the same vision of developing and pursuing traditional arts and crafts.