Diest
DIEST.
Don't worry - all roads lead to Diest :o)
Just set your GPS to Koning Albertstraat 72, 3290 Diest.
Alternatively, you can get to Diest by public transport from Leuven, Aarschot, Hasselt, Brussels or Antwerp. Of course, it's fastest by train, although you may have to change at Aarschot.
FREE PARKING.
You can park free of charge at :
Citadel, Leuvensestraat/citadel : 3 min. center foot. Follow the signs for "Centrum" and go via the steps to the Allerheiligenberg.
Halve Maan, Omer Vanoudenhovenlaan 10 : 10 min. on foot to the center through the beautiful Diestse Begijnhof.
Parking Kluisberg, Boudewijnvest : 5 min. on foot to the center.
Station and station ring road: 10 min. on foot. Follow the signs for "Centrum".
You can find paid parking places in the town. Parking is not expensive, but the traffic wardens do their job. Better to be safe than sorry :o)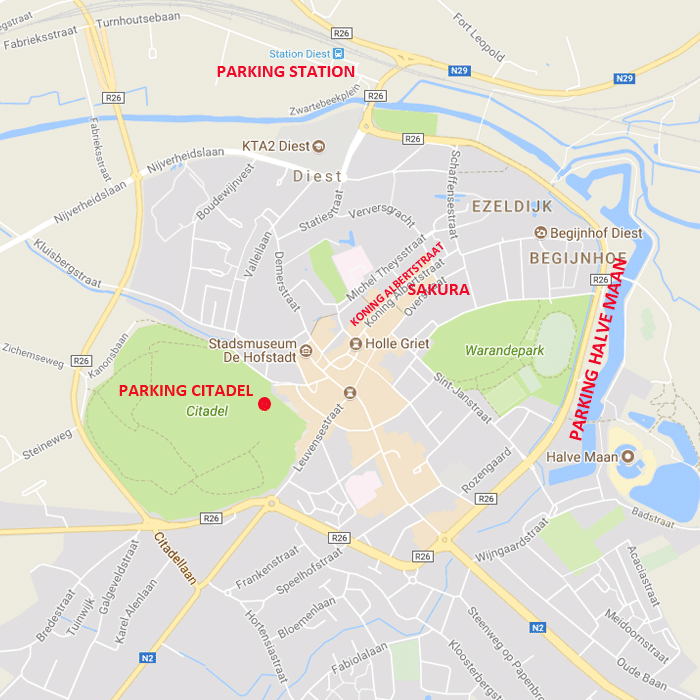 WHAT'S THERE TO DO IN DIEST?
Located between the well-known Belgian cities of Leuven and Hasselt, Diest is a small dynamic town that has many assets. One practical advantage is the fact that there are very few traffic jams and that it is not difficult to find a parking space! Diest has a rich history, and many tourists are surprised when they discover the wealth of historical and cultural gems. Koning Albertstraat is the main street that leads from the center of Diest to the splendid Beguinage Convent. The picturesque market offers a seemingly endless variety of food and drink. After you've visited the gallery, why not take a stroll in the center of the town. You will find the Warandepark a haven of peace. You can even walk on water ... but that's something you can discover yourself!
Curious? The tourist office is at your service!
Enjoy your day in Diest!