Nakaya Pen Event
WELCOME TO THE NAKAYA PEN EVENT! 17, 18, 19 October from 10 to 18h.
Nakaya, one of the most renowned Japanese pen makers in the world, is coming to Belgium.
And they're paying a unique visit to Sakura Fountain Pen Gallery in Diest! This visit will be celebrated with a three-day event featuring an abundance of handmade fountain pens, all in Urushi and Maki-e.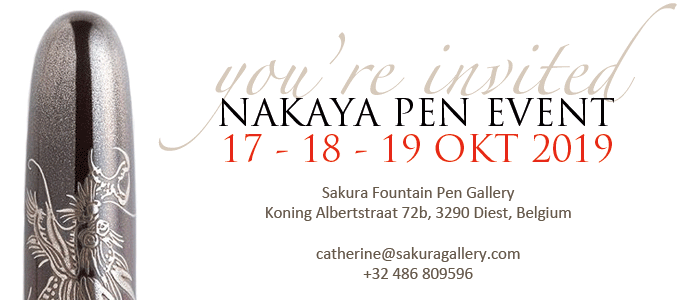 Enjoy the festivities and refreshments!
Please subscribe via INSCRIPTIONS or send us an e-mail, sms, whatsapp, ...
We kindly ask you to let us know how many people will accompany you to this event.
WHAT TO EXPECT
1. Admire countless beautiful handmade pens.
Nakaya fountain pens are all crafted by hand. The body of each pen is made of ebonite and twisted on a custom lathe. Created with the utmost craftsmanship, dedication, and patience, these pens are lacquered with urushi, cured, sanded, ... and finally polished into a one-of-a-kind, truly perfect pen. The entire process can easily take 3, 4 or even 12 months, depending on the chosen finish.
2. Meet with pen designer and nibmeister Shinichi Yoshida.
Shinichi Yoshida-san was born in Hiroshima in 1964 and worked for the Platinum Co from 1991 to 1998.
At Mr. Nakata's request, he joined the Nakaya company in 2003 and is one of the most esteemed people at Nakaya. He designs pens and carefully adjusts each nib. For this event, he requested a small work table. We wonder what nib magic he has in store for us…

3. Meet with Mrs. Yoshiko Kato.
Mrs. Yoshiko is an export/relation manager and supports and provides support to every foreign sales outlet. Mrs. Kato ensures a perfect follow-up of every order or special request. She will also be attending this event and is more than happy to answer all your questions.
4. The chance to win a beautiful pencil box!
Among the attendees of this event, a beautiful Ladon pen box that can store up to 11 pens will be raffled off!
All you have to do is to submit a note with your details in the raffle jar. When the event is over, Mr. Shinichi and Mrs. Kato will draw the winner. The lucky winner will receive the beautiful pencil box shortly afterward!

Come and take a look, exchange ideas, meet new people or catch up with old acquaintances. We provide a pleasant setting and a unique atmosphere. We look forward to welcoming you soon!