INK ART EVENT
On 23 September 2017 (10-18h), we look forward to seeing you at the international Ink Art Event !
Today thousands of people are fascinated by ink. Online and offline. Ink is a game changer. Ink is a liquid that allows you to write or draw. But ink means also : colour, nuances, saturation, shade, sheen, wet, dry, waterproof, bulletproof, lightfast, feathering, bleeding, ghosting, passion, artistry, writing, reading, painting, ...
A guest list is not really neccessary but it is nice when we know you are coming ! It makes organising much easier.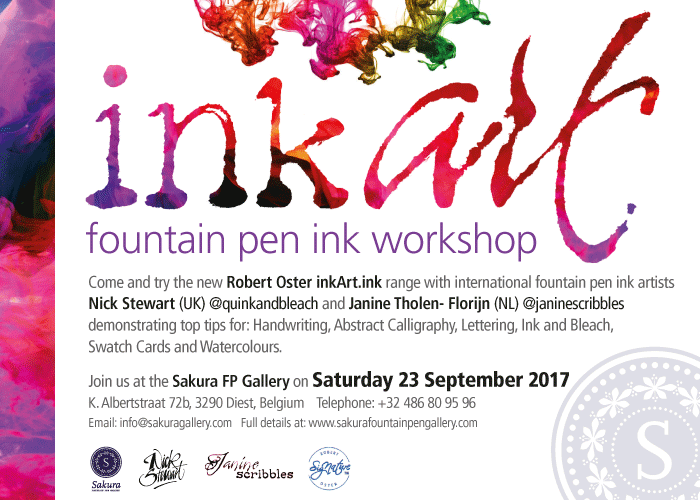 On this ink art event you can participate a workshop with Nick Stewart(UK) and Janine Tholen-Florijn (NL). Both have a passion for ink. But they also love pens, paper, brushes, art and so much more. Nick will take you on an artistic ink adventure, while Janine will demonstrate her beautiful handwriting and lettering techniques. Want to join us? All you have to do is sign up for the workshop.
The ink art event is also pleased to introduce the new Robert Oster inkArt.ink range from Australia, a new type of ink from Down Under that is just perfect for artwork. Not to be missed ! 
If you want to just take a look, exchange ideas, try some ink, meet some new people or see some old faces, you're welcome to pop in to the ink art event. Bring your favourite paper and writing instruments. 
Saterday 23 September between 10 - 18h we can promise you a colourful and unforgettable day !